Why New Year is Important for Children
January 5, 2015 Catherine Milford No Comments
Happy New Year Everyone!
I hope you all had a great Christmas and start to the new year. I'm back at work today, trying to frantically catch up on my emails, reports, blogs, and so on, and feeling completely frazzled, but I took a moment to stop and think about what the new year means to children.
Aside from the over-tired tears and dramas we had this morning as I was trying to get my children ready for their first day back at school, the start of the new year is also very important to them. Although they are not starting a new school year (those of you in the summer hemisphere have a new calendar year and school year, while we only have the new calendar year to contend with), the new year still gives the children a chance to reflect on what has happened over the past year, what went well and what they would like to change. Although we can't really expect children to set 'new year's resolutions', this reflection can be very helpful. It can help them work through issues that may be long-standing and it can really help them gain perspective. Children tend to live in the moment, and if the moment is good, that's brilliant, but if the moment is not good, that can be quite traumatic, especially for the more emotional or thoughtful children. I don't think I would be able to count the number of times my oldest son say "I hate my life". Reflecting on the previous year usually involves remembering the big things, which are usually positive. Holidays, new teachers, Halloween costumes, birthday parties and many more events usually stick in the mind, or are easy to bring to mind with little reminders and they help children to realise that most of their past experiences are positive. This gives them a balance for those "bad moments". If there have been any significantly bad experiences during the previous year, this can give children a chance to talk about them and their feelings and to put these things "in the past" while focusing on the fact that the upcoming year is likely to be better.
Here are some things I did with my children this new year to help them reflect (I will try to remember to post these and many more just before the next new year to help you plan your "new year's party" with your children):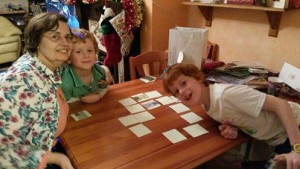 Photo Memory: We took photos from the past year, printed 2 copies of each onto coloured card and played the traditional "memory" game. The kids loved to be reminded of what happened and had a great opportunity to practice their story telling and their memory skills. I, of course, pretended to forget many of the events and had my children remind me, but the game was a big hit for children and adults alike.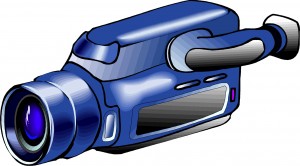 Video Journal: We recorded a new edition of our video journal, during which I asked the children questions and they answered. Aside from being irresistibly cute watching the previous years videos to see how much the children have grown in the past year, the videos helped the children put some of their thoughts and hopes into words. And children just love watching themselves on video, so each time they do, they are getting another chance to reflect on the questions.
While we are on the topic, new year's can be a great time for parents too. It's a great time for us to introduce new rules or expectations that can help improve family dynamics or children's behaviour. You can try to introduce new rules/expectations by saying something like: "We are stating a new year, so we want to start it off right by…"
Category: Parenting, Seasonal, Uncategorized