Developmental Coordination Disorder (DCD) or Dyspraxia: What is in a Name?
November 10, 2014 Catherine Milford 2 Comments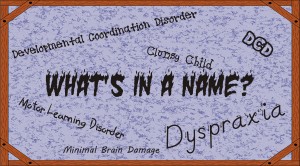 Dyspraxia has been known by many different names over the last few decades. From "clumsy child" to "minimal brain damage" (in what I like to call the "dark ages") to Developmental Coordination Disorder (DCD), Motor Learning Disorder and Dyspraxia. Dyspraxia is the most commonly used term in some countries, including the UK & Ireland, although DCD has been the recommended term since 1994 and continues to be, despite it being "probably not the most accurate descriptor of the disorder" (Mandich & Polatajko, 2003, pg 409).
I was faced with this dilemma when I did my Master's degree, wanting to explore the impact of dyspraxia in the adolescent, but having to use the term "developmental coordination disorder".
In my opinion, the term DCD does not accurately reflect the difficulties faced by these children/adolescents. Developmental Coordination Disorder implies that the main challenge of these children/adolescents is coordination, and while the majority of these children do have coordination difficulties, this completely minimised the remaining challenges faced by these children/adolescents, including organisational skills, social skills, self esteem, and many more (which we will discuss in part 2).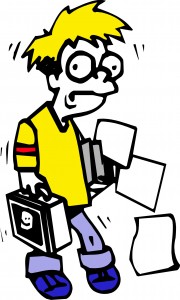 A particular school of thought considers dyspraxia to be a sub-group of a Regulatory Sensory Processing Disorder and this group is gaining in popularity. It is to this group that we, as occupational therapists, tend to subscribe, most likely because experience working with these children/adolescents and their families shows us that almost all of these children have sensory processing deficits and modulation difficulties and logic tells us that not understanding the sensory information we get from our bodies can result in us being clumsy and having difficulty figuring out how to use our bodies.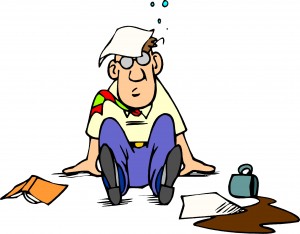 So, in conclusion, dyspraxia goes by many names and it is important for people who live with or work with those with these difficulties to understand this and to be open to information about all of these terms as they will most likely apply to this group of children/adolescents.
Category: Developmental Coordination Disorder/DCD